My refashion bin is still overflowing, and despite being busy sewing along with Project Run and Play I am determined to get it under control. I pulled another perfectly good item out of the bin today; another victim of me buying clothes that nobody truly loved.
It was a plain blue Hanes T-shirt that sat in my son's drawer with tags still on it for a year. I was determined to turn it into something he loved, and was excited to wear. Plus I saw a chance to check a project off my 14 Pins List.
DecoArt SoSoft Fabric Paint 2oz Glitter Silver Bling
(affiliate link)
You could use any color fabric paint you want as long as it goes well with your shirt color, but I strongly recommend using deco art fabric paint because it holds up best over time, especially when washed and dried.
1. Print the stencil, and trace onto freezer Paper.
2. Cut out your stencil with an exacto knife and carefully arrange on t-shirt with the shiny side down.
3. Iron it in place and then paint.
It was a fairly easy project and my son is now excited to wear his new shirt to school.
I did get one other Pinterest project done this week. However it was not nearly as successful. My gummy bear Ice Pops Were supposed to look like this.
Instead they ended up looking like this. And the gummy bears were soggy. Oh well the kids were still happy to eat them.
I completed 2 of the items on my 14 pins list, and found one more to fill in the blank spots, so my list now looks like this:
11. To Be Announced
12. To Be Announced
13. To Be Announced
14. To Be Announced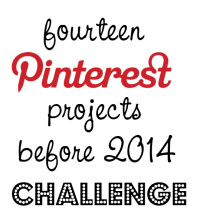 I've found a linky part at Craft-O-Maniac with tons of inspiring crafting ideas. I linked up. I hope you do to.