Hello my name is Jennifer and I am a Pinterest addict. Not a day goes by where I don't pin something, but for all the pinning I do very few of the projects ever get completed. This year I plan to change that by joining the fourteen pins by 2014 challenge from Mama's got it together.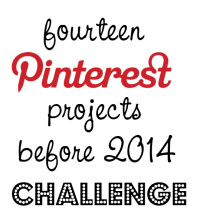 I am sure that I will find plenty of time to do all this between sewing my children's entire wardrobe from scratch, helping my sister with her new triplets, and possibly moving (the property I rent may be rezoned). But, just in case, I think I'll try to choose a few pins that go well with everything else that has to get done.
I haven't chosen all of my projects yet. I want to save a few for things I find later but here is what I have chosen so far.
10. To Be Announced
11. To Be Announced
12. To Be Announced
13. To Be Announced
14. To Be Announced
If you want to cross a few of those Pinterest To Do's off your list this year, sign up for the challenge
Mama's Got it Together